Training sweatshirt Karbon Zip Green Karbon KLC-70
Lead time:
2 working days
Description
TRAINING SHIRT KARBON ZIP GREEN KARBON
Running long sleeve is made from a super knit Karbon. Dynamic style. Panelled cut with fast moisture transportation (out) zones. Ultra-light with anti-static and anti-bacterial features. It has UV protection and is delicate for the skin. A zipper with the latch function, three reflexive spots. Smart pocket. It will work during an intensive training. An extended version of the running T-shirt KBC. Green Karbon is the true depth of green – the entire juicy essence is surfacing thanks to Karbon fibres.

TRAINING SHIRT ZIP - CHARACTERISTICS
● Colour: green
● Fabric: Karbon / Brisk 3D Ultra
● Substance: 110 g/m2 / 135 g/m2
MATERIALS CHARACTERISTICS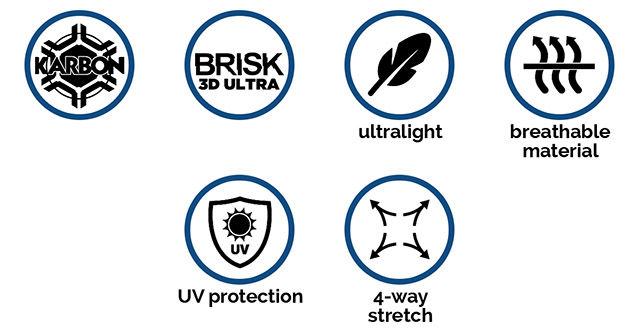 Our long sleeve we created from a super strong knit containing a modern fabric Karbon with attributes supporting a sport's person. The knit has triangular, perforated zones, which are interwoven with Karbon fabric stripes. It is characterised by exceptional technological features; Karbon knit is an excellent conductor, thanks to which it absorbs and then disperses electrostatic charges collected in our bodies. It gives a relaxing effect and could also prevent cramping. Carbon has anti-bacterial characteristics – it can eliminate a wide spectrum of bacteria! It stops their propagation and developing bad smells. The knit also has thermoregulatory features – it disperses the extra heat and helps sustain the right body temperature. This knit is100% ecological.
The panels in the armpits and on the back were made from Brisk 3D Ultra whose task is to immediately collect the skin moisture and disperse it over the fabric, transport it to the outside and evaporate it. Our long sleeve's colours are durable, and they do not fade away in washing or sunlight.
Due to such features, it makes the long sleeve a jewel among our long sleeves! Put it on during intensive trainings in cold or hot days. Running, ultra as well, tennis, boxing, bicycling and other demanding disciplines as for our long sleeve it is its natural element. This model works well in travel and as part of everyday style. The long sleeve is a Polish product.
FUNCTIONAL ELEMENTS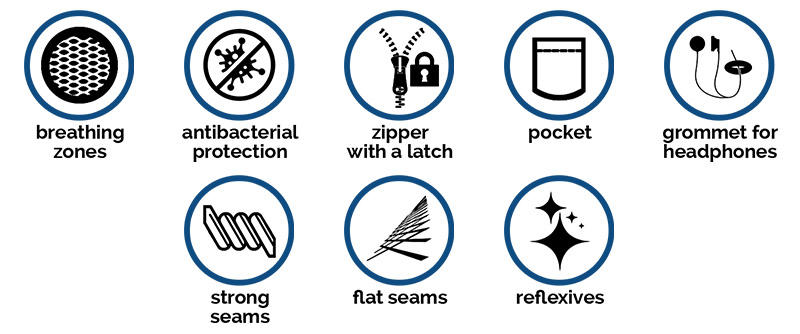 ● The panelled structure for a better moisture transportation off your skin. Special Brisk 3D Ultra insets were designed in the places of higher perspiration. Another stripe making transportation of the moisture faster was introduced on the sleeves running from the armpit to the cuffs, and on the back– from the neck to the buttocks.
● Made from the innovative fabric with Karbon fibre to support you during your activity. Its properties such as anti-bacterial and anti-electrostatic features will work in intensive trainings. You can read about it more in MATERIALS' CHARACTERISTICS
● A special air pocket structure. Their regular distribution all over the surface makes the long sleeve not stick to the body.
● Zipper with a latch prevents its unzipping on its own and lets you control how far or little you want it zipped. You will appreciate such a solution especially during trainings in the variable weather conditions. The zipper is finished off with a flap – for your neck and chin's protection.
● Non-compressive cuffs align with the wrist and give room for folding them up.
● On the back, we have placed a smart pocket with a grommet. It is zippered which you will find on the seam.
● We used the sturdiest threads so that our long sleeve had durable and light seams at the same time. This technology is used when making parachutes.
● Flat seams significantly increase your comfort: Thanks to them irritation or abrasions will not be your problem at all.
● Reflexives will make you more visible on the road. We have put them on the left side of the chest, right shoulder and at the back (vertical stripe).
GREEN KARBON STORY
Green is the harmony, soothing, tranquility... so it was until now!  The unique structure of the fabric and black Karbon fibers add even more character to this color. We brought out from it the depth and richness you have never dreamed of. Green and black are a well-matched pair. Let yourself be carried away, go green!
MATERIALS' COMPONENTS
Carbon
● 82% polyester
● 18% elastane
● 8% nylon
● 2% carbonio
Brisk 3D Ultra:
● 100% polyester
WASHING INSTRUCTIONS FOR TRAINING SHIRT KARBON ZIP
● The shirt can be washed in a washer set for max 40 degrees.
● Before putting it in the washer you should empty and zip up the pocket.
● Use the program designed for sports clothes.
Size chart
Women's clothing
| | | | | | |
| --- | --- | --- | --- | --- | --- |
| Size | XS | S | M | L | XL |
| Height | 158 - 164 | 160 - 164 | 165 - 170 | 171 - 178 | 174 - 180 |
| Bust | 78 - 86 | 86 - 92 | 92 - 98 | 98 - 106 | 106 - 112 |