NESSI CREW
Our Nessi Crew is made up of extraordinary and inspiring women who, with their perseverance and steadfastness in honing their talent, show that nothing is impossible for them! Their knowledge, experience and passion make up their authority and respect - they are masters in their fields. They owe who they are to hard work, and everything they do corresponds closely to the values we profess.
KATARZYNA SZKODA




ultra runs, mountain runs, marathons
The global reigning champion of the 10th edition of the Wings for Life World Run, covering a distance of 55 km in a time of 3:39:22. A lover of trail running and mountain running, an ultra-distance runner.
Winner of mountain runs - Chojnik Marathon over a distance of 42 km and the Rudawy Marathon in winter, also over a distance of 42 km. In 2022, she made her debut at the royal distance in Valencia. She completed the Spanish marathon in a time of 2:42:59. In 2023, she set her personal best in a half marathon during a competition in Poznań with a time of 1:17:56.
Kasia has been actively running for 7 years. She runs because she enjoys it, she runs because she loves running. As she says herself: if she didn't enjoy running, she wouldn't run. During the week, she combines her running training with work. In addition to regular running sessions, she also emphasizes supplementary training: general developmental exercises, fitness, sauna, and swimming.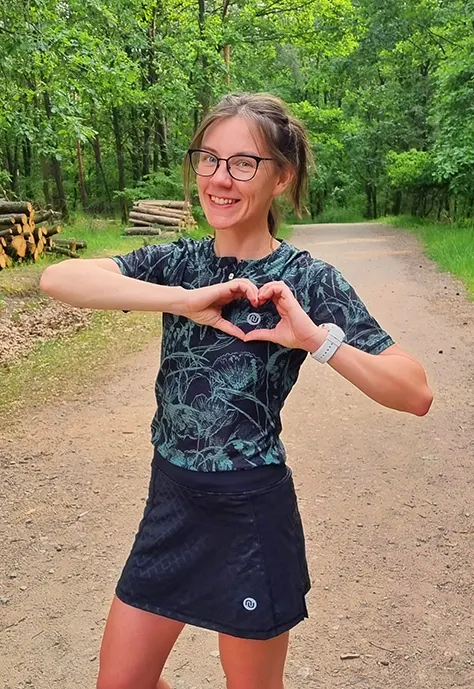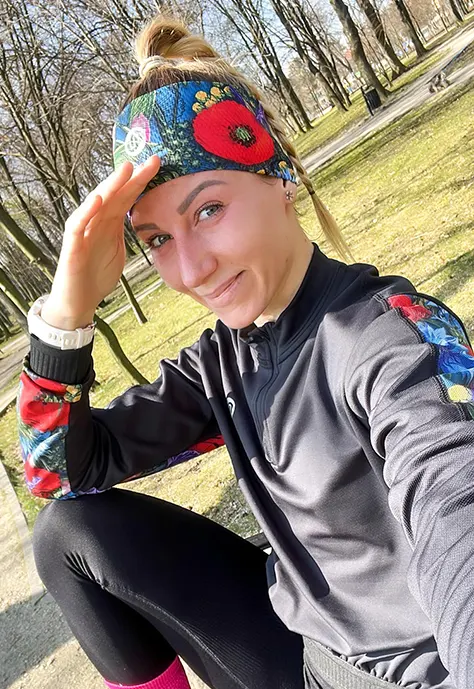 PATRYCJA SFORA




Hockey
A multiple-time representative of Poland in ice hockey, associated with the national team since 2012. Her counter of appearances with the eagle on her chest is slowly reaching 100! She is part of the national team, which was the first in the history of Polish women's hockey to advance to the qualifying tournament for the Winter Olympics (2021). With this team, she won the runner-up position at this year's Division 1B World Championships, succumbing only to the leading Chinese national team.
Since the beginning of her career, she has been associated with Polonia Bytom, with which she won eleven Polish Championships, totally dominating the domestic competition over the past years. In the upcoming 2022/2023 season, together with Polonia she will defend the championship title.
Patrycja is particularly fond of using clothing from the Ultra line during matches, training on the ice, as well as supplementary training.
SABINA BARTECKA




Triathlon
Current Polish Duathlon Champion (2023). She has won dozens of cups in triathlon competitions at various distances: from 1/8 IM to the full distance - including being a three-time Polish Champion, two-time winner of the Silesiaman Triathlon series. In 2022, at the 70.3 Ironman World Championship in St. George, she ranked 13th in the world in her category and 7th among Polish women in the Open category. In 2019, as the first Polish woman and 2nd woman in the world, she completed the Beskid Extreme Triathlon - Diablak. This is the toughest full-distance triathlon in Poland and one of the toughest in Europe (3.8 km swimming, 180 km cycling and a marathon to Babia Góra).
She also competes in running competitions, including mountain ultra competitions - she completed, among others, the Run of 7 Valleys at a distance of 64 km in Krynica, reporting at the finish line as the fourth woman open and first in the category!
Since 2012, she has been training running, and since 2015 she has been practicing triathlon. As she says, today she cannot imagine life without it, nor can she imagine a day without training. She is a lifelong optimist, and is eager to share her sports passion with others, including by leading running meetings as part of Nessi Time Żory. With her determination and commitment, she shows that success can be achieved at any age.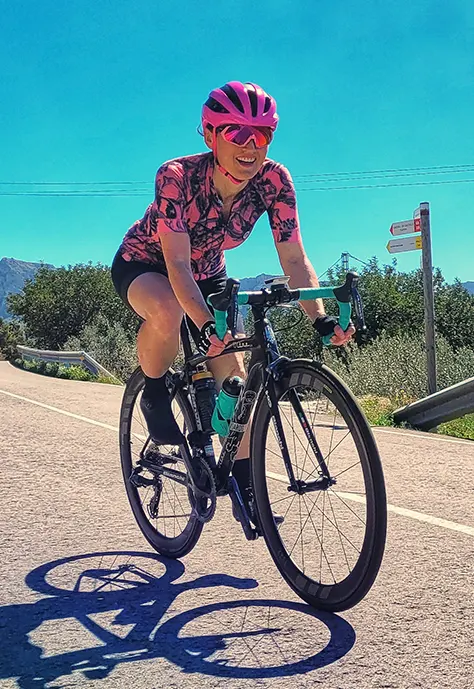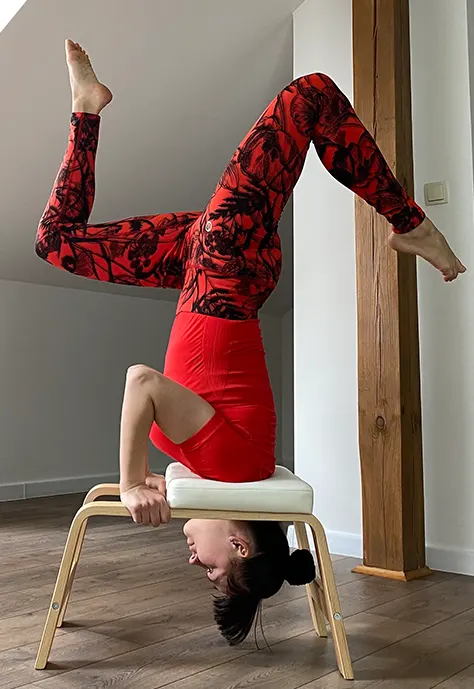 WERONIKA RADZIMOWSKA-MEJER




yoga
Qualified yoga teacher and fitness instructor. Trainer of ProFi fitness group. Instructor of International Academy of Personal Trainers and Fitness Instructors.
Her qualifications and certifications are a constantly growing list, making her an unquestionable expert in the field of Yoga. Among others, Weronika has completed Vinyasa Ashtanga Yoga 200h training according to Yoga Alliance international standards, as well as Yoga for Pregnant Women and Mama Baby Yoga 50h. She holds certificates: Elite Les Mills BODYBALANCE and Les Mills Barre Instructor, PFS Pilates Level I, PFS Fit Ball, PFS Training for Women during Pregnancy and after Childbirth, PFS Choreography in Healthy Spine Classes, Healthy Spine, Stretching with Musculoskeletal Analysis.
She conducts training at Profi Fitness School and is the owner of the intimate Neighborhood Yoga studio in Suchy Las. She loves working with people, and group classes fill her with good energy and awaken the need for constant development. She believes that understanding the body and its needs is the key to effective movement that brings improved physical and mental well-being. She has completed a marathon and several half marathons.
The paths of Veronika and Nessi crossed in early 2022, during the Become the Face of Nessi Sportswear contest. By winning the contest, Veronika became the face of our brand, of which we are very proud.
Aleksandra Gajewska




Trekking
Traveler, with a particular passion for mountain trekking. She has more than 13 years of travel and trekking experience, and shares her expert knowledge on the Nessi World blog, among others.
Since she made her first trip to the United States in 2009, she has been continuously marking new points on the world map. To date, she has visited 48 countries and such islands as Okinawa and Borneo, among others. She has conquered the Teide volcano in Tenerife, hiked spectacular and scenic trails in Taiwan, been to the highest peak in Bosnia - Maglić, hiked in the Damned Mountains in Albania and Durmitor National Park in Montenegro.
She climbed Triglav and Prisjonik in Slovenia on the most technically demanding trails. And of separate note is the ascent of Mount Santubong in Borneo - in a tropical climate and with vertical places with ropes. As for the Polish mountains, they are no secrets for her, and in 2021/2022 she conquered the Crown of Beskid Wyspowy. She has walked the length and breadth of the Tatry Mountains.
She rarely goes to the same place. She believes that there are so many beautiful places in the world that she may not have enough life to see them all.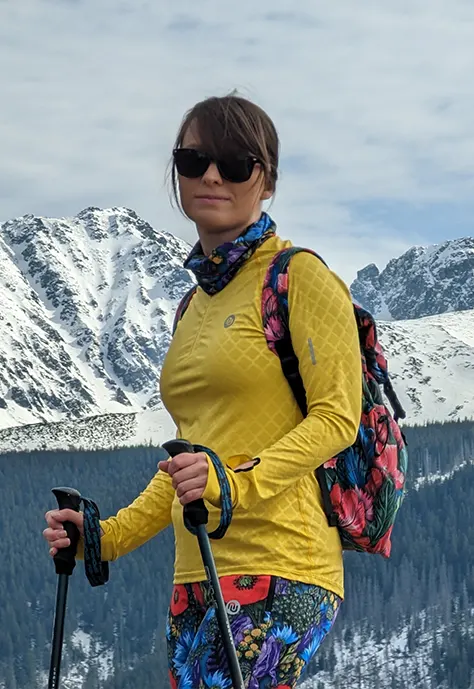 IWONA WOJAS




Trekking, mountain running
She spends every free moment in the mountains, overcoming not only kilometers of trails, but also the limits of her abilities.
To date, she has set foot on virtually all of the Tatry trails, both on the Polish and Slovak sides. Regardless of the season, her activities in the Tatry Mountains are based on the "light and fast" style, i.e. the lightest possible clothing and the minimum amount of equipment necessary - which translates into the ability to cover a lot of mountain kilometers quickly. An important issue for her is safety in the mountains. She is constantly expanding her knowledge, participating in training courses on high altitude tourism, winter tourism, climbing or avalanche training.
She also left a piece of her heart in the Dolomites, where she has spent longer vacations for many years - there she focuses on running and trekking on via ferrata. She is also no stranger to the Italian mountains - she knows very well what and where in that region. During the summer season on weekends, she often gets in the car and drives to the Austrian Alps, scoring more huts, glaciers and considerable heights. Her words make you want to hit the trail:
"Long mountain distances are a character training for me, they allow̨ me to focus̨ on my goal, teach̨ me to cope with anxiety, pain and weaknesses in my body. My moments in the highlands are pure and undeniable happiness blended into the mountain landscape, consisting̨ of a strange mixture of pain, effort, loneliness, euphoria, delight and strength. After all, life is all about beinǵ happy, even if the road to happiness is very long, leads uphill, over boulders and sometimes requires many sacrifices."
JULIA MACIASZEK




An accomplished obstacle course racer (OCR) and extreme sports enthusiast
The first woman in Poland to complete an obstacle course in the popular TV show Ninja Warrior Polska. The winner of the 2022 OCR Polish Championships in her age category, which earned her direct qualification for the 2023 OCR European Championships. She also has numerous achievements in the iconic Runmageddon series, including winning the Runmageddon Classic Warsaw.
She began her sports journey by diving into multiple disciplines simultaneously. She started with karate but also explored trampoline jumping, swimming, and dance. Currently a student at the University of Physical Education in Wrocław, she trains for several hours every day. She combines obstacle course racing with acrobatics and has represented Poland in the circus festival in Budapest.
Disciplined and a perfectionist with a fighting spirit, she embodies the motto "Train, eat, sleep, repeat" like no other. Her greatest success? "It doesn't matter how many goals I manage to achieve or how many medals I win. My biggest success is that I have the opportunity to do what I love in life, to surround myself with wonderful people, to like myself, and to love life. Every day, I wake up grateful and can enjoy my everyday life," explains Julia.