Down jackets


discover a new dimension of thermal comfort
Get to know our down jacket and marvel at the phenomenal properties of natural goose down, with which it was insulated. It is an absolutely perfect filling: super-light, breathable and unmatched in terms of thermal insulation. Combined with the properties of our functional materials - windproof and breathable Wind Guard and Vento Zero with a high level of thermoactivity - it creates the clothing that provides multidirectional protection against the cold.
The down jacket is perfect for everyday use, while traveling and during mountain hiking. Thanks to the high springiness of down, it compresses easily - you can roll it up into a small package and always have it with you. Fitted cut and practical details (a deep hood, flexible trims on cuffs and hem or innovative Cannon Clips) increase its functionality during long hikes in the fall-winter season. Modern design with expressive colors will emphasize your style and bring a good dose of sports energy wherever you go.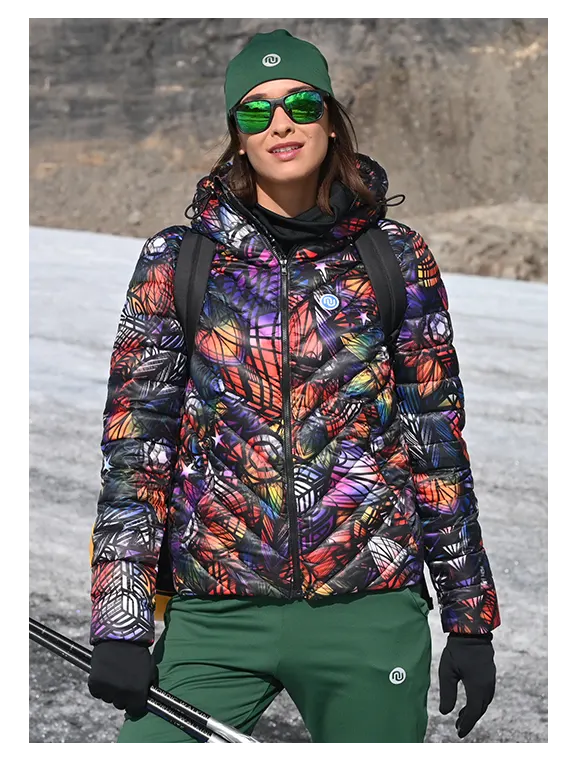 Innowacyjne materiały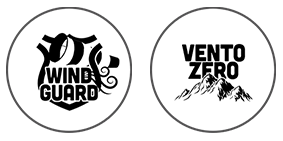 We used our innovative materials to create the down jacket: its outer layer is Wind Guard, while the inner layer is Vento Zero. We selected them to best complement the properties of natural goose down, creating a garment that is not only warm, but also lightweight, breathable and functional.
Wind Guard
Wind Guard is a material designed to protect against cold and wind. It effectively blocks cold gusts, but at the same time allows the skin to breathe, wicking away evaporating moisture. The combination of these 2 properties is the basis of thermal comfort. In addition, Wind Guard is finished with a hydrophobic layer to increase its resistance to soaking and reinforced with special Rip-Stop fibers.
Vento Zero
Vento Zero material is distinguished above all by its extraordinary lightness and delicacy - it is skin-friendly and super-pleasant to the touch. With its thermoactive properties, it enhances the protection against the cold provided by Wind Guard and down fill. It acts like a thermos - maintains optimal thermals and does not let heat out.

Polish goose down


a phenomenal invention of mother nature
Women's down jacket is insulated with natural goose down from Polish farms. Such a perfect creation as goose down could only have been created by the infallible Mother Nature - although the outdoor industry has been working on it for years, it still has not managed to develop a thermal insulation that would match its properties. Its ability to retain and store air makes it sensational in protecting against the cold and wind, providing thermal comfort even in extreme conditions. In addition, Polish goose down is distinguished by its high level of flexibility - this is what makes it so light and so easily compressible. It is obtained and processed by hand, in a process that meets the highest standards. Breeding of geese in Polish farms is carried out in an ethical and ecological manner, according to constantly improved procedures. Due to its natural properties and processing method, our native down is valued all over the world.
| | |
| --- | --- |
| Product: | goose down 90/10EN |
| Springiness: | FP 730 cu.in |
| Origin: | Poland |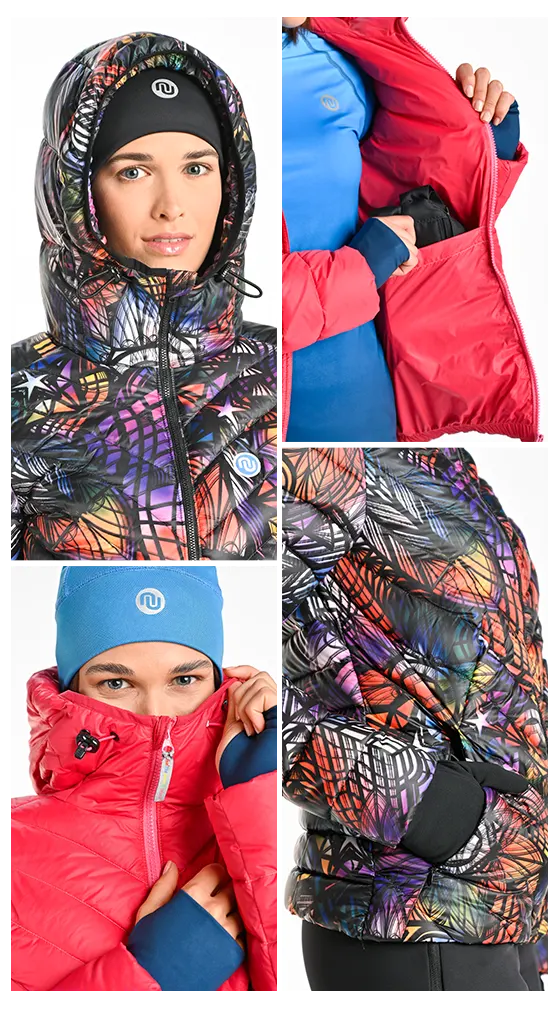 Down jacket's advantages
Highest thermal comfort – the combination of the thermal insulating properties of natural goose down and the functional materials Wind Guard and Vento Zero creates an excellent barrier against cold and wind.
Light as a feather – if it wasn't for the phenomenal protection against the cold, you could forget that you are wearing any garment at all!
Highest quality down – Polish goose down is a filling appreciated all over the world.
Well-thought-out construction – the fitted cut and practical details (flexible cuffs and hem, hood finished with broken elastic, Cannon Clips) improve the jacket's fit to the silhouette, so that the cold and wind cannot get under it by any means.
Distinctive design – the quilted cut and the original pattern from the Lively collection, which catches the eye with its detailing and color expressiveness, give the jacket a stylish twist in the best fashion edition.
Deep, adjustable hood for protection of the head from unfavorable conditions thanks to the flexible trim and stopper adjustment, it fits perfectly to the head, does not slip off and does not fall over the eyes.
Practical pockets: 2 side zippered and an internal open one - for safe storage of the most necessary small items.
Hydrophobic finish to increase the jacket's resistance to soaking.
Rip-Stop fibers to increase the outer material's resistance to mechanical damage.
Stylish details: elegant embroidered logo, loop for hanging the jacket with Feel the power of colors inscription.
Down jacket care
Natural goose down is an extremely durable insulation. It can retain its sensational properties for even a dozen years - but it requires regular, proper care. How to wash and dry the down jacket?
You can wash the down jacket in a washing machine. However, before you get down to it, clean the powder container and the drum from detergent residues - their aggressive action could damage the down.
When washing your down jacket, use products intended specifically for the care of natural down. Do not use softeners or universal liquids. In addition, you can use the so-called smashing balls, which prevent the down from clumping during spinning.
Before putting into the drum, empty the pockets, fasten the zippers and press studs and turn the jacket inside out. You can soak it beforehand - this way the washing machine will choose the right amount of water during rinsing.
Down clothing should be washed only on delicate programs and at low temperature (max. 30°C).
You can dry your down jacket in a tumble dryer - on a long cycle with low temperature - or on an ordinary dryer. Then unfold the jacket flat, place it away from heat sources and do not expose it directly to the sun. Shake it lightly from time to time and turn it inside out. If, after drying, the jacket has not regained its original shape (this is normal), gently break up the places where the down has accumulated with your fingers and distribute it evenly over the surface of the entire compartment.
New

Bestsellers

SALE

in October

Promotion

Available soon

see more

New

Bestsellers

SALE

in October

Promotion

Available soon

see more

New

Bestsellers

SALE

in October

Promotion

Available soon

see more