Description
COTTON T-SHIRT

WHITE

Product code: ITC-00NG2
Color: Qhite
Sex: Woman

Weight: 180 g.


YOU ARE #NESSIGIRL
Color is your element, and boredom is not for you, because you are #nessigirl! We are sure that you put convenience first. You also value the delicacy of natural materials and ecology is high on your priority list! You are always yourself, you love to smile and color the world :) Conquer it with your positive energy! Ready? The loose cut is created for lovers of oversized looseness.
FREE CHIC
Loose is a modern cut - a compromise between classic, oversize loose. We left the bottom unbounded by the seam, giving the jersey a claw and ferocity. The sleeves are gently turned up and the pugnacious design is finished with sewing on the back. Our organic cotton T-shirt also has important details that we took care of: natural, safe dyes and deep and juicy colors that do not fade when washed or exposed to sunlight. Organic cotton has many advantages - it breathes very well, it is soft and delicate. At the same time, we give you the highest quality and durability - the t-shirt keeps its shape. We used a label made of washpapa, an ecological mixture of paper and rubber. The inner label is 100% cotton. A loose-fitting t-shirt made of first-class organic cotton is not only unforgettable style every day - at work, shopping or school. It is also your conscious and ethical choice.
Expressive black is a classic and unique color. It is associated not only with elegance, but also with mystery. Put on our cotton T-shirt to show your predatory nature.
RETURN TO THE SOURCES
Our loose cut jersey is made with respect for the environment and human rights
We have created it from high-quality organic cotton grown in ecological plantations. The method of organic cotton production is fully controlled and meets a number of standards included in quality certificates. It uses natural processes taking place in nature, it is also free from fertilizers and chemical pesticides. Eco cotton is a return to the sources: natural methods, reduced water consumption in the production process. It is hand-picked, has the "Human-friendly" sign and meets the human-ecological requirements.
Pay attention to the details that make the difference:
The material is resistant to abrasion and does not lose its color in washing or under the influence of sunlight.
Innovative washpapa label.
The innovative cut will add rapacity to your stylizations.
Flat seams will allow you to forget about chafing.
Delicate and pleasant to the touch and skin-friendly.
It has a "human friendly" sign.
We produced the T-shirt for you in Poland.
* The model in the photo is 175 cm tall and wearing a T-shirt in size S.
Technology
TECHNOLOGIES
The T-shirt was made from organic cotton cultivated on ecological farms.
It is like a second skin. It is delicate, soft and skin-friendly, isn't allergenic.
It breathes excellently.
The material doesn't lose colors. It doesn't fade in washing or in the sunshine thanks which it looks like new for a long time.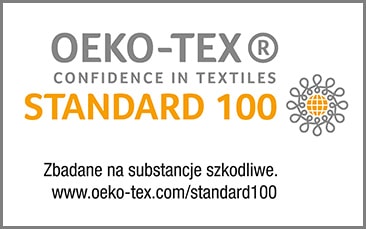 Products marked with this sign are free of harmful substances in concentrations having a negative effect on humans health e.g.: pesticides, chlorophenols, formaldehyde, allergenic dyes, prohibited azo dyes and exctractable heavy metals.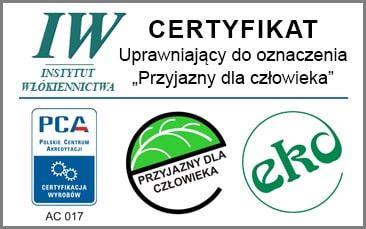 This marking confirms human and ecological properties of textile products and ensures that the production process is done according to currently established legal regulations within the hygiene of working conditions. The certificate is issued by the Certification Company TEXTIL-CERT in Łódź.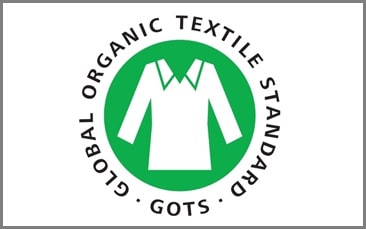 Products with this sign come from ecological farms where no artificial fertilizers are used. Also, the use of heavy metals, allergenic substances, GMO ( genetically modified organisms), chromium, nickle, copper, PCV, whiteners containing chlorides, bromides.


Organic Cotton features:
- is skin-friendly,
- delicate,
- nice to touch,
- breathes well,
- protects colors,
- is non-allergenic.
Composition: 94% cotton, 6% elasthan.
Wash
Organic cotton T-shirt requires proper care:
- wash in max. 40°C, we recommend rather 30°C,
- do not use bleach,
- do not use chlorine,
- wash in gentle detergent or washing liquid for colorful clothing,
- iron in max. 150°C,
- do not dry clean,
- do not use mechanical dryer.
Size chart
Cotton T-shirt
| | | | | | | |
| --- | --- | --- | --- | --- | --- | --- |
| Size | XS | S | M | L | XL | XXL |
| Height | 158 - 164 | 160 - 164 | 165 - 170 | 171 - 178 | 174 - 180 | 174 - 180 |
| Bust | 78 - 86 | 86 - 92 | 92 - 98 | 98 - 106 | 106 - 112 | 110 - 120 |