Bikini bra Sand Panther - SJ2S-11K8
Price:
17,38€
34,75€
The promotion expires when 09.08.2020 23:59:59
SWIMSUIT
SAND PANTHER

Product code: SJ2S-11K8

Color: Multicolour

Sex: Women


One-piece, colorful, reliable sports swimsuit. Dedicated to women who value comfort, freedom and convenience while practicing athletic activities in water. It was constructed so that it doesn't constrict or pinch anything. It is ideally fitted to the female silhouette.

Skin-friendly
The swimsuit is made of delicate and durable Forever Borgini material, which thanks to special weaves stretches in four directions. It behaves like a second skin, it is pleasant to the touch and skin-friendly. It protects the body against harmful UV rays, the colors do not fade even after prolonged use.

Dynamic and ergonomic
It is flexible, which makes it compatible with the body. Its feminine cut shapes and perfectly presents the figure. The exposed back with crossing straps allow full freedom of movement. It has got a subtle cut on the buttocks' line.

Conveniences
The swimsuit provides support and protection. It stays in place during water activities. It does not show through. It uses flat and elastic, and at the same time durable and strong seams that do not irritate or rip, but work together with the material.
It dries quickly and its colors are resistant to fading and sunlight. It also doesn't lose colors in the wash, even after long-term use.
The swimsuit does not have built-in padding or underwiring.

Mosaic Reef

Vibrant with life, just like the reef, energy-boosted, brimming with endorphins - this version of Mosaic will appeal to the hearts of all fans of the colorful side of the power!
* The model in the photo is 172 cm tall and is wearing swimsuit size S/M.
TECHNOLOGIES
The swimsuit was made from Forever Borgini material which combines perfect technological quality with the perfection of make and finish.

It fits the silhouette. It is delicate and elastic. It stretches in four directions. It gives the silhouette a nice shape.

It protects the skin against the UV rays. It provides protection against the sunlight. It is skin-friendly, is non-allergenic, doesn't irritate or cause abrasions.

The material doesn't lose colors. The colors don't fade in the washing or from the sunlight, thanks to which the clothing looks like new for a long time.

The fabric is durable, resistant to wearing down and tearing.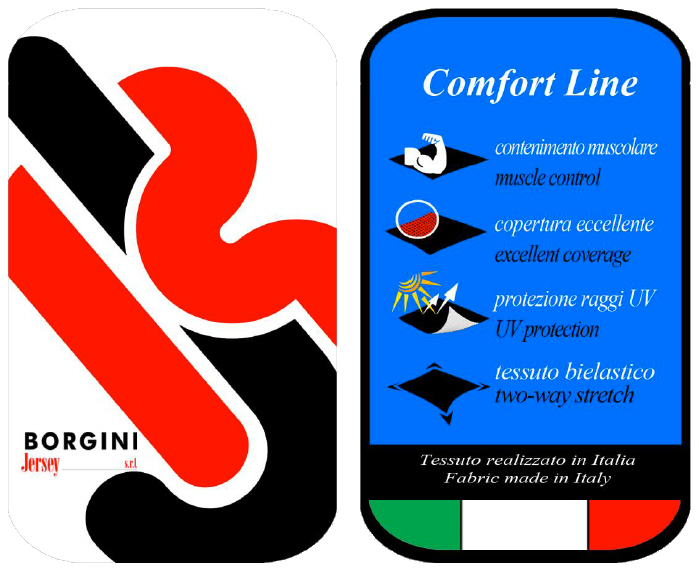 FOREVER BORGINI
- elastic
- shapes the body
- stretches
- skin-friendly
- delicate
- nice to touch
- durable
- protects the colors
- non-allergenic
- doesn't pill in washing


Composition: Polyester 78%, Elastane 22%.