BIKINI BOTTOM
(TWO-PIECE SWIMSUIT – BRIEFS)
(TOP SOLD SEPARATELY)
MOSAIC LUMO

Product code: SJ2F-12M4

Colour: Multicolour

Gender: Women


MOSAIC LUMO – FLASH OF LIGHT
Mosaic is the landmark pattern of each of our collections. The Mosaic Lumo pattern is like a fabulously coloured stained-glass window, shining in the autumn sun. Look through the coloured glass! We have transferred the craft of stained-glass and the uniqueness of this art to our fabrics. Fancy patterns have become three-dimensional thanks to the hand-painted light-leaks. The black frames of modern stained-glass windows bring out the essence of colours and emphasize their vividness. This is also our return to the roots! We created the Mosaic Lumo pattern from four colours - red, yellow, green and blue. It refers to the colours of our first mosaic.
Put on your Mosaic Lumo briefs and see the world in new colours!


FULL AND COMFORTABLE
We know how important is that a swimsuit has the proper cut. Our full briefs are designed so you can spend your time actively. Thanks to the lining, the material is not see-through – Your comfort is the most important thing. The briefs perfectly adjust to the shape of your figure as the material stretches in 2 directions and you can enjoy comfort.

MATERIAL
To sew our bikini bottom we used Brisbane material. The biggest advantage of the material is its resistance to UV light - you can be sure that the briefs will not lose its intense colour. When autumn and winter are over, and you still wish to use your bikini bottom, you will appreciate its resistance to sun creams, oils and chlorine. Our bikini bottom is a perfect choice for autumn and winter activities – especially while ice swimming. With our bikini top they make a perfect match.
These details make a difference:
The material is resistant to abrasion and does not lose its colour when washed or when exposed to sunlight;
Comfortable full cut;
Flat seams make you forget about abrasions;
Perfect choice for ice swim;
Delicate, soft and skin friendly material.

The bikini bottom was manufactured for You in Poland.
* The model in the picture is 172 cm tall and is wearing an S size bikini bottom.
TECHNOLOGIES
The swimsuit was made from Forever Borgini material which combines perfect technological quality with the perfection of make and finish.

It fits the silhouette. It is delicate and elastic. It stretches in four directions. It gives the silhouette a nice shape.

It protects the skin against the UV rays. It provides protection against the sunlight. It is skin-friendly, is non-allergenic, doesn't irritate or cause abrasions.

The material doesn't lose colors. The colors don't fade in the washing or from the sunlight, thanks to which the clothing looks like new for a long time.

The fabric is durable, resistant to wearing down and tearing.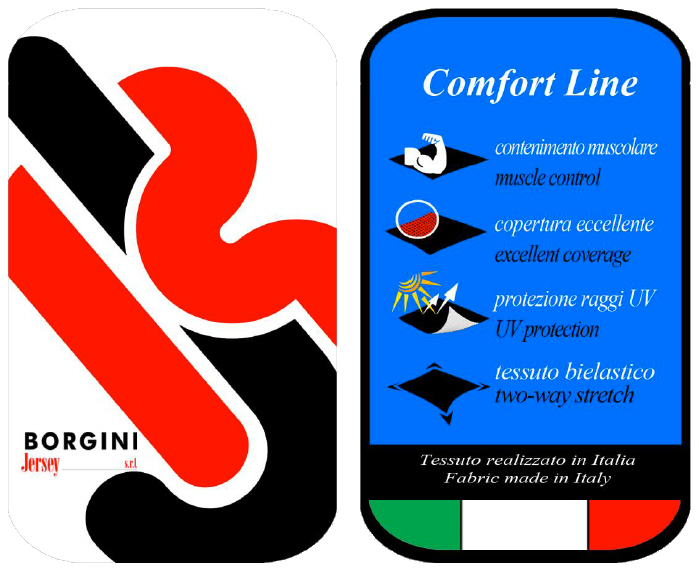 FOREVER BORGINI
- elastic
- shapes the body
- stretches
- skin-friendly
- delicate
- nice to touch
- durable
- protects the colors
- non-allergenic
- doesn't pill in washing


Composition: Polyester 78%, Elastane 22%.
Bikini briefs
| | | | | | |
| --- | --- | --- | --- | --- | --- |
| Rozmiar | XS (34) | S (36) | M (38) | L (40) | XL (42) |
| Biodra | 89 - 92 | 93 - 96 | 97 - 100 | 101 - 104 | 105 - 108 |
| Talia | 63 - 66 | 67 - 70 | 71 - 74 | 75 - 78 | 79 - 82 |