Koszulka T-shirt 100% Bawełna Eko - TBM-9G6
KOSZULKA 100% BAWEŁNA EKO

Kod produktu: TBM-9G6
Kolor: Wielokolorowy
Płeć: Męski


Koszulka z krótkim rękawkiem wykonana z bawełny organicznej pierwszej klasy. Powstała w poszanowaniu środowiska naturalnego i praw pracy człowieka. Przeznaczona do codziennego użytkowania. Można ją nosić do pracy, szkoły, na zakupy czy spacer.
Bawełna organiczna

Koszulka została stworzona z wysokiej jakości bawełny organicznej uprawianej na plantacjach ekologicznych. Metoda produkcji ekobawełny jest w pełni kontrolowana i spełnia szereg norm ujętych w certyfikatach jakości. Wykorzystuje naturalne procesy zachodzące w przyrodzie, w tym jest wolna od nawozów i chemicznych środków ochrony roślin. Ekobawełna obrabiana jest naturalnymi metodami, a proces jej wytwarzania działa w trybie zmniejszonego zużycia wody. Jest ręcznie zbierana, posiada znak "Przyjazny dla człowieka" oraz realizuje wymogi humanoekologiczne.
Udogodnienia

Koszulka o luźnym kroju, nie uciska i nie krępuje ruchów. Oferuje swobodę i pełną wygodę. Materiał, z którego ją wykonano bardzo dobrze oddycha. Jest delikatny, miękki i przyjazny dla skóry. Nie uczula. Jednocześnie charakteryzuje się najwyższą jakością, jest wytrzymały, zachowuje swój kształt.
Żywe kolory

Koszulka z bawełny organicznej barwiona jest naturalnymi metodami. Bardzo dobrze oddaje intensywność kolorów. Nie traci ich w praniu i nie blaknie pod wpływem promieni słonecznych, nawet przy długotrwałym użytkowaniu. Barwniki są bezpieczne dla skóry.
TECHNOLOGIES
Koszulkę wykonano z bawełny organicznej uprawianej na plantacjach ekologicznych.
Zachowuje się niczym druga skóra. Jest delikatna, miękka, przyjazna dla skóry, nie uczula.
Bardzo dobrze oddycha.
Materiał nie traci kolorów. Nie blaknie w praniu i pod wpływem działania promieni słonecznych, dzięki czemu odzież wygląda jak nowa przed długi czas.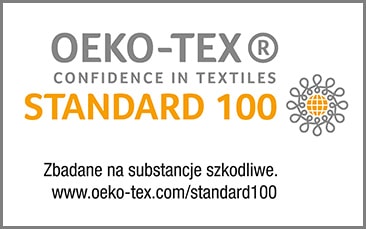 Produkty oznaczone tym znakiem są wolne od substancji szkodliwych w stężeniach mających negatywny wpływ na stan zdrowia człowieka m.in. pestycydów, chlorofenoli, formaldehydu, barwników alergizujących, zabronionych barwników azowych i ekstrahowalnych metali ciężkich.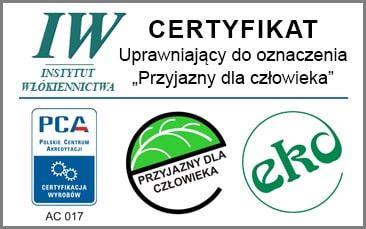 Oznaczenie tym znakiem potwierdza właściwości humanoekologiczne wyrobów włókienniczych i zapewnia, że proces ich wytwarzania jest zgodny z obowiązującymi przepisami prawnymi w zakresie higienicznych dla środowiska pracy. Certyfiktat wydaje Zakład Certtyfikacji TEXTIL-CERT w Łodzi.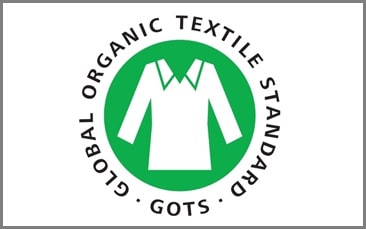 Produkty oznaczone tym znakiem pochodzą z upraw ekologicznych, na których nie stosuje się nawozów sztucznych. Jest zakaz stosowania metali ciężkich, alergenów, GMO (organizmów modyfikowanych genetycznie) chromu, niklu, miedzi, PCV, wybielaczy zawierających chlorki i bromki.


Bawełna organiczna cechy:
- jest przyjazna dla skóry,
- delikatna,
- przyjemna w dotyku,
- dobrze oddycha,
- chroni kolory,
- nie uczula.
Skład: 100% bawełna.
Wash
Koszulka z bawełny organicznej wymaga odpowiedniej pielęgnacji:
- prać w temperaturze maksymalnie 40°C, choć zalecamy raczej 30°C,
- nie używać wybielacza,
- nie chlorować,
- prać w łagodnym detergencie lub środku piorącym do kolorów,
- prasować przy temperaturze żelazka maksymalnie 150°C,
- nie czyścić chemicznie,
- nie suszyć w suszarce.
Men's clothing
| | | | | |
| --- | --- | --- | --- | --- |
| Size | S | M | L |  XL |
| Height | 164 - 176 | 174 - 182 | 180 - 188 |  186 - 194 |
| Chest | 86 - 94 | 94 - 102 | 102 - 110 |  110 - 120 |
* The model in the picture is 188 cm tall and wearing a size L shirt.