Koszulka T-shirt 100% Bawełna Eko - TBM-9G6
Price:
24,75€
42,25€
The promotion expires when 20.10.2019 23:59:59
100% EKO COTTON T-SHIRT

GALAXY

Product code: TBM-9G6
Color: Multicolor
Sex: Man

Weight: 180 g.


A short-sleeved T-shirt made from 1st class organic cotton. It was created out of respect for the natural environment and human working rights. It is meant for everyday use. You can wear it to work, school, when shopping or on a walk.

Organic cotton

The T-shirt was created from a high quality organic cotton cultivated on ecological farms. The production method of this cotton is completely controlled and fulfils a number of norms listed in the quality certifications restrictions. It uses natural processes which take place in nature, which includes no fertilizers or chemical plant protection solutions. Eco cotton is naturally processed and it is produced using a reduced amount of water intake method. The cotton is picked manually, it has got a 'Human-friendly' badge and stands up to the human and ecology requirements.

Conveniences

It is a loose cut T-shirt, which doesn't compress or restrain your movements. It offers freedom and total comfort. The material it was made from breathes very well. It is delicate, soft and skin-friendly. It isn't allergenic. At the same time, it is characterised by the highest quality, is durable na retains its shape.

Vivid colors

Organic cotton T-shirt is dyed using natural methods. It presents the intensity of colors very well. It doesn't lose the colors in washing or fade in the sunshine even after long-term use. The dyes are sae for the skin.
TECHNOLOGIES
The T-shirt was made from organic cotton cultivated on ecological farms.
It is like a second skin. It is delicate, soft and skin-friendly, isn't allergenic.
It breathes excellently.
The material doesn't lose colors. It doesn't fade in washing or in the sunshine thanks which it looks like new for a long time.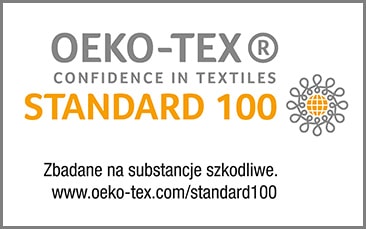 Products marked with this sign are free of harmful substances in concentrations having a negative effect on humans health e.g.: pesticides, chlorophenols, formaldehyde, allergenic dyes, prohibited azo dyes and exctractable heavy metals.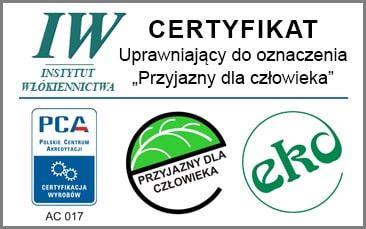 This marking confirms human and ecological properties of textile products and ensures that the production process is done according to currently established legal regulations within the hygiene of working conditions. The certificate is issued by the Certification Company TEXTIL-CERT in Łódź.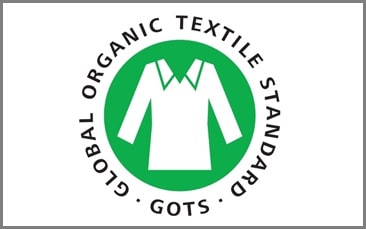 Products with this sign come from ecological farms where no artificial fertilizers are used. Also, the use of heavy metals, allergenic substances, GMO ( genetically modified organisms), chromium, nickle, copper, PCV, whiteners containing chlorides, bromides.


Organic Cotton features:
- is skin-friendly,
- delicate,
- nice to touch,
- breathes well,
- protects colors,
- is non-allergenic.
Composition: 100% cotton.
Wash
Organic cotton T-shirt requires proper care:
- wash in max. 40°C, we recommend rather 30°C,
- do not use bleach,
- do not use chlorine,
- wash in gentle detergent or washing liquid for colorful clothing,
- iron in max. 150°C,
- do not dry clean,
- do not use mechanical dryer.
Men's clothing
| | | | | |
| --- | --- | --- | --- | --- |
| Size | S | M | L |  XL |
| Height | 164 - 176 | 174 - 182 | 180 - 188 |  186 - 194 |
| Chest | 86 - 94 | 94 - 102 | 102 - 110 |  110 - 120 |
* The model in the picture is 188 cm tall and wearing a size L shirt.