Warm leggings 7/8 Galaxy Black - OLOV7-9G90
Price:
32,90€
82,25€
The promotion valid while stock lasts
WARM LEGGINGS 7/8

GALAXY BLACK
Product code: OLOV7-9G90

Colour: Black

Sex: Woman

Insulated leggings with a high body shaping belt. They allow you to continue training throughout the year, without fear of chill. Designed for the autumn and winter season, for outdoor activities. They provide full thermal comfort on cold, windy and frosty days due to Vancover material. They combine high functionality and quality - they prove that sport and fashion can go hand in hand. They can be used during running training, Nordic walking, hiking, as well as during winter activities - skiing, cross-country, and ice skating.

Protection against chill
Leggings are made of modern Vancover material, ensuring a high level of thermoregulation. It's warm, flexible and mellow. The layered structure of the fabric acts as an isolating layer. It stands as a barrier against chill, cold and frost letting your skin breathe at the same time.

Modelling, high belt that protects the back against cold
Leggings are characterized by high functionality. They have a high corrective belt, that keeps the whole figure. It masks its imperfections, shapes the belly and the waist. It slenderizes and emphasizes a woman figure while maintaining a feeling of comfort. Does not squeeze or restrict movements. A high belt, reaching above the iliac spines, protects the loins and the kidneys from cold.

Two zipped pockets
The multi-functional belt has two side pockets with zippers along its entire length. They are capacious and can hold all necessary accessories: a phone, keys, energy gels or tissues. Flexible material stabilizes objects in place while zippers provide quick access to the content and protect against slipping it out.

Perfect fit for every figure
The Vancover material adheres to the body like a second skin and stretches in four directions, which ensures a perfect fit for every figure. Leggings do not roll down. They offer comfort and full convenience. They always stay in place during activity due to technical cut that prevents the leggings from slipping. You don't have to pull them up, they stick to the body all the time. They use flat, flexible, and at the same time durable and strong seams that do not rub and do not crack but work together with the material.
Leggings do not lose colour in washing and do not fade in the sun, even after long-term use. They are of the highest quality, are durable and retain their shape.

Reflective elements for good visibility
Taking care of the user's safety, the leggings have been fitted with reflective elements - on the front on the left thigh in the form of a logo and on the calves on the back in the form of horizontal dots. Their place was chosen according to the principle of greater visibility so that the moving part of the body gives a variable signal to drivers on the training route. This is extremely important in the autumn and winter, where the days are getting shorter, the sun rises late and sets early.

Galaxy
Choosing Nessi Sportswear you become part of a big and great galaxy! Nessi is not just sports' clothing! It's a lifestyle and colour accompanying you every day! Finally, all the symbols that characterize us are in one pattern. During every training, you can have it with you. We believe that every one of us is different and thus unique. This motto made it possible for us to prepare the galaxy pattern in 10 various colours. Express yourself and pick the colour that makes 100% of you!
Galaxy Black- black is a mystery and magic, and consequently, an inexhaustible source of energy. Galaxy Black is the power of motivation, courage, and self-confidence.

* The model in the photo is 172 cm tall and wearing S-M size leggings.
TECHNOLOGIES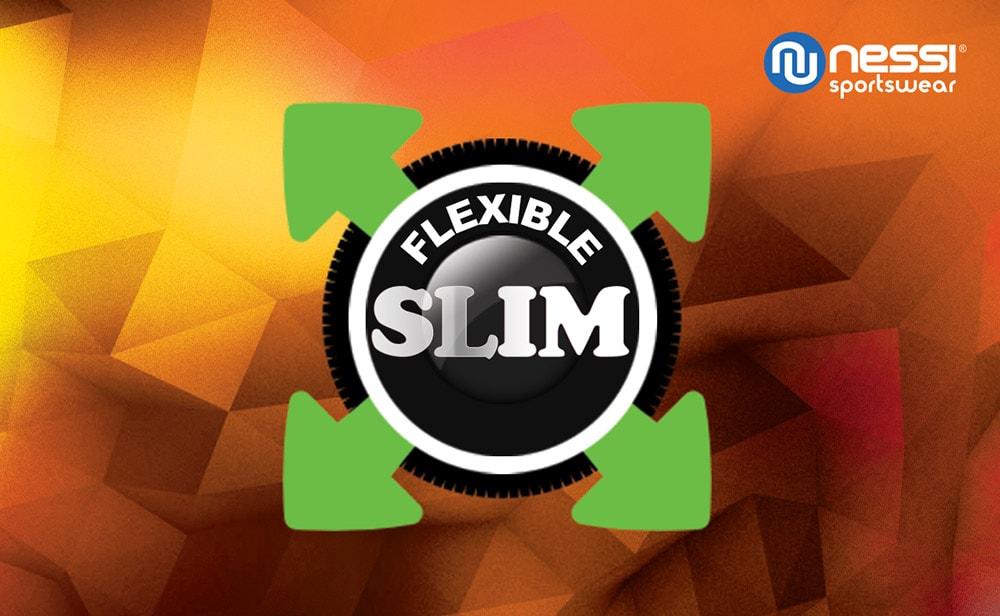 Flexible Slim
The improved version of the Flexible Fit material: exceptionally delicate, thin with better breathability parameters.
The material behaves like the second skin: it is elastic and it stretches in fur directions, which provides perfect alignment to every silhouette.
Thanks to its very good breathability the sweat is quickly transported to the outside and the material stays dry. It is characterised by the unusual delicateness and it is skin-friendly and doesn't cause abrasions or irritate the skin.
The material doesn't lose colours in washing or in the sun, and so the clothes look like new for a long time.
Composition: 82% polyester, 18% elastane.
Weight: 190 g/m2
Leggings.
| | | | | |
| --- | --- | --- | --- | --- |
|   Size | XS/S | S/M | M/L | L/XL |
|   Height | 154 - 162 | 160 - 170 | 164 - 180 | 166 - 180 |
|   Waist | 64 - 74 | 68 - 82 | 74 - 90 |  78 - 94 |
|   Hips | 86 - 100 | 90 - 104 | 96 - 110 |  100 - 116 |