Warm leggings 7/8 Total Black - OLOZ7-90
Price:
41,85€
69,75€
The promotion expires when 26.01.2020 23:59:59
COLORED WARMING LEGGINGS 7/8

TOTAL BLACK
Product code: OLOZ7-90

Color: Multicolor

Sex: Woman
Running in spite of frost
You will not be cold in these leggings. Insulated leggings combine high functionality and quality from the premium segment, what's more - they prove that sport and fashion can go hand in hand. Their material is a durable Elastic Fit Warm fabric with excellent breathability parameters, but above all, they provide warmth in winter workouts.

The material adheres to the body like a second skin and stretches in four directions, which ensures a perfect fit to each figure and full freedom of movement. Flat, elastic seams do not rub the skin and do not break, but stretch with the material. The technical cut of the trousers prevents them from falling and unpleasant pressing. In addition, on the legs of the puller applications, which ensures excellent tightness.
OLOZ- insulated leggings!
Leggings have a wide belt, which was used in the OSLZ leggings. What distinguishes this model from the other leggings is the material they are sewn from - Flexible Fit Warm. This knitwear insulates from wind and cold, as it has got internal insulation. The legs are finished with an elastic band, which depending on the needs, can be turned inside to provide an additional layer of insulation for your ankles.
TECHNOLOGIES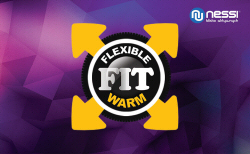 Flexible Fit Warm

- it is extremely flexible: it extends in four directions, which ensures a perfect fit to each figure,
- breathes well,
- wicks moisture away from the surface of the skin to the outer layers,
- dries quickly,
- it is very delicate and pleasant to touch,
- isolates from wind and cold,
- has internal insulation.

The material is like a second skin: pleasant to the touch, flexible, perfectly matched to the body.

Its outer layer protects against rewinding and isolates from cold, while the inner one is very delicate, it is responsible for quickly draining moisture from the skin's surface and prevents the body from cooling down.

The fabric extends in four directions, which ensures a perfect fit to the figure.

The delicate and skin-friendly material does not cause irritation and abrasions. Thanks to thermal insulation, it provides thermal comfort and is ideal for autumn and winter.

The material breathes well, thanks to which the clothing made of it dries very quickly.

The material does not lose colors in the wash and under the influence of sunlight.

Composition: 100% polyester.

Weight: 260g / m2
Warmed leggings
| | | | | |
| --- | --- | --- | --- | --- |
|  Size | XS | S | M | L |
|  Height | 150 - 158 | 154 - 162 | 160 - 170 | 164 - 180 |
|  Waist | 60 - 70 | 64 - 74 | 68 - 82 | 74 - 90 |
|  Hips | 82 - 96 | 86 - 100 | 90 - 104 | 96 - 110 |