Leggings 7/8 Black Cat - OSLP7-124
COLORFUL LEGGINGS 7/8

Product code: OSLP-124

Color: Multicolor

Sex: Woman
Like a second skin
The high quality of the material guarantees comfort during long runs, and the impressive design transfers the current fashion trends straight onto the running route. The model is made of breathable Elastic Fit fabric. The material wicks moisture away from the skin surface and then drains it, which ensures a constant feeling of freshness. Flexible Fit adheres to the body like a second skin and stretches in four directions, thanks to which the leggings do not restrict movement and perfectly adapt to any body type. Ladies will also appreciate the fact that the material is not see-through, so they can do bends, squats and other exercises without any worries.
OSLP7- multi-functional belt with comfortable pockets!
Leggings have a multi-functional belt with three capacious pockets. Thanks to this, you'll always have the vital gear accessories at hand: a phone, an energy gel or handkerchiefs. The elastic material stabilizes the contents of the pockets, so moving items will not disturb you during the run. Pockets, unlike in OSLZ model, do not have zippers, still though the entire contents of the pockets are well protected.
ADVANTAGES
They are like a second skin. They were made of high quality Flexible Fit material, which is delicate, flexible and provides a perfect fit to feminine shapes.

They breathe. Flexible Fit material breathes well, so that the sweat is quickly evaporated outside. This guarantees maximum comfort during intensive training both indoors and outdoors.

They do not slide down. The leggings' cut was raised and designed based on consultations with fitness runners and instructors. As a result, a model was created that does not fall and does not compress during movement.

There is room for the keys and a smartphone. In this model a multi-functional belt was introduced with three pockets, which is an absolute innovation as for the available pants for running in Poland. You will fit in here house keys, tissues, a smartphone and a credit card.

They ensure your visibility. This way they make your safety better. If you like training in the evenings, you will surely appreciate the presence of reflective elements on your leggings. These elements are placed in three points: on your calves, on your thighs and on the belt.

They are extremely durable. Their strength are the elastic seams, which stretch with the fabric and don't rip.

They are unique. In the Nessi leggings you will certainly stand out of the crowd!
TECHNOLOGIES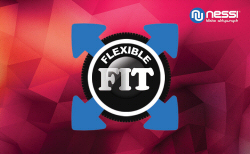 Flexible Fit
- it is extremely flexible: it extends in four directions, which ensures a perfect fit to each figure,
- breathes well,
- wicks moisture away from the surface of the skin to the outer layers,
- dries quickly,
- it is very delicate and pleasant to touch.

The material behaves like a second skin: it is delicate, flexible and breathable.
The fabric extends in four directions, which ensures a perfect fit to any figure.
The delicate and skin-friendly material does not cause irritation and abrasions.
The material breathes well, so that the sweat is quickly evaporated outside an the fabric stays dry.
The material does not lose colors in the wash and under the influence of sunlight, so that clothing looks like new for a long time.

Composition: 86% polyester, 14% elastane.
Leggings
| | | | | | |
| --- | --- | --- | --- | --- | --- |
|   Size | XXS/XS | XS/S | S/M | M/L | L/XL |
|   Height | 150 - 158 | 154 - 162 | 160 - 170 | 164 - 180 | 166 - 180 |
|   Waist | 60 - 70 | 64 - 74 | 68 - 82 | 74 - 90 |  78 - 94 |
|   Hips | 82 - 96 | 86 - 100 | 90 - 104 | 96 - 110 |  100 - 116 |
* The model in the picture is 172 cm tall and wearing S-M leggings.