THERMOACTIVE SNOOD

PINK MIRAGE
Product code: AB2-11X2
Colour: Pink
Gender: Unisex
PINK MIRAGE - THE COLOUR OF BEAUTY
Let yourself be charmed! Pink is the colour you associate with femininity and tenderness. To bring out the essence of this colour, we created the Mirage effect! It is an optical illusion with an intriguing pattern. Mirage combined with pink is an explosion of love and carefree! We know that you like to express yourself in different ways, which is why we have prepared Mirage in several colour versions.
Put on the Pink Mirage snood and feel the love!


YOUR NECK UNDER PROTECTION
Our snood protects your neck. Wind and cold scarf that will work whenever you need to cover your neck. Special knitwear protects you from adverse weather conditions. The scarf is light, handy, and – most importantly – effective. You can use it also as a face mask.

MATERIAL AND REFLECTIVE ELEMENTS
The neck warmer was made from Cubic Guard material of a unique grid structure so the snood acts as a breakwater: it effectively protects against gusts of wind and cold. Its two-layer structure allows its multifunctional character. On the one hand, it acts as a barrier against unfavourable weather conditions, on the other hand, it wicks sweat away easily from the skin, protecting the body against chill. The snood is mellow and skin-friendly. Our snood is a practical accessory, which will work perfectly during training on windy and slightly cooler days. It does not squeeze or rub. What is more, it dries quickly, is highly durable, and does not fade. Its original design will give character to any sports set. You can also use it to complement your everyday styling.
Dimensions:
- Length 50 cm, width 26 cm (measured flat).
The thermoactive snood was manufactured for You in Poland.
TECHNOLOGIES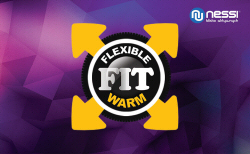 Flexible Fit Warm

- it is extremely flexible: it extends in four directions, which ensures a perfect fit to each figure,
- breathes well,
- wicks moisture away from the surface of the skin to the outer layers,
- dries quickly,
- it is very delicate and pleasant to touch,
- isolates from wind and cold,
- has internal insulation.

The material is like a second skin: pleasant to the touch, flexible, perfectly matched to the body.

Its outer layer protects against rewinding and isolates from cold, while the inner one is very delicate, it is responsible for quickly draining moisture from the skin's surface and prevents the body from cooling down.

The fabric extends in four directions, which ensures a perfect fit to the figure.

The delicate and skin-friendly material does not cause irritation and abrasions. Thanks to thermal insulation, it provides thermal comfort and is ideal for autumn and winter.

The material breathes well, thanks to which the clothing made of it dries very quickly.
The material does not lose colors in the wash and under the influence of sunlight.

Composition: Polyester 100%.