Head buffs Mosaic Metzli - AB2-10M4
HEAD BUFFS THERMOACTIVE

MOSAIC METZLI
Product code: AB2-10M4
Colour: Multicolour
Sex: Unisex

A thermoactive snood that can be used in several ways. It guarantees thermal comfort during autumn and winter training. It isolates from adverse weather conditions - chill, cold, frost. It works during running training, Nordic walking or hiking, as well as skiing, cross-country or ice skating. You can also wear the neckwarmer on an everyday basis while shopping or walking. The snood is distinguished by modern design and intense colours.

Protection against wind and cold
The snood is made of pleasant Cubic Guard material, of a lattice structure. Its two-layer construction translates into its multitasking. On the one hand, it acts as a perfect insulator, on the other, it wicks sweat away efficiently, protecting the body from cold. The material does not lose colour and does not fade in the sun even after long-term use.

Universal character
The snood, measured flat, is 50 cm long and 26 cm wide. Its universal character allows you to take it everywhere. In the basic version, it serves as a scarf covering the neck It can also be used as a balaclava or face mask. It was made from a material that can be easily wrapped and twisted so it can be used as a hat, headband or handwarmer.

Durable
Overhand finishing provides better durability of the snood. The material does not warp, squeeze nor rub. It dries quickly.

Measurements
50 cm long/ 26 cm wide (measured flat)
TECHNOLOGIES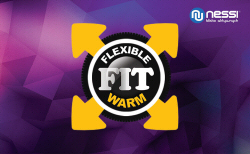 Flexible Fit Warm

- it is extremely flexible: it extends in four directions, which ensures a perfect fit to each figure,
- breathes well,
- wicks moisture away from the surface of the skin to the outer layers,
- dries quickly,
- it is very delicate and pleasant to touch,
- isolates from wind and cold,
- has internal insulation.

The material is like a second skin: pleasant to the touch, flexible, perfectly matched to the body.

Its outer layer protects against rewinding and isolates from cold, while the inner one is very delicate, it is responsible for quickly draining moisture from the skin's surface and prevents the body from cooling down.

The fabric extends in four directions, which ensures a perfect fit to the figure.

The delicate and skin-friendly material does not cause irritation and abrasions. Thanks to thermal insulation, it provides thermal comfort and is ideal for autumn and winter.

The material breathes well, thanks to which the clothing made of it dries very quickly.
The material does not lose colors in the wash and under the influence of sunlight.

Composition: Polyester 100%.