Hat Thermoactive Black - ACZ-90F
Price:
18,56€
24,75€
The promotion expires when 27.10.2020 23:59:59
THERMOACTIVE HAT

BLACK
Product code: ACZ-90F
Colour: Black
Gender: Unisex
WINDPROOF CLASSIC
The ACZ hat is a classic among our hats. We've made it from a material that provides great protection against wind and cold. The ergonomic cut of the hat combined with the elastic material ensures a perfect fit.


MATERIAL AND REFLECTIVE ELEMENTS
We made this classic hat from Cubic Guard material. It has a unique grid structure and its features work perfectly in the autumn and winter season. The outer layer of the fabric acts as a breakwater: it effectively protects against gusts of wind and cold. The inner layer, on the other hand, is gentle, skin-friendly and quickly wicks away moisture to the outside. This keeps the skin dry, the body keeps the heat and the hat dries very quickly. Cubic Guard provides a balance between windproofness and breathability while giving you thermal comfort.
The combination of an ergonomic cut and the elastic material provides a perfect fit and prevents the hat from squeezing and slipping off during exercise. It also helps to transport moisture even more efficiently from the skin to the outer layers of the material. Flat seams will make you forget about abrasions and irritation. The hat has a reflective logo to help ensure safety during training - the days in autumn and winter are getting shorter and shorter. The unique design will allow you to complement your style while you are active, on the move or on daily basis.
Size:
S/M - Head circumference from 50 to 55 cm.
M/L - Head circumference 56 to 58 cm.
ADVANTAGES
It dries quickly. The fabric from which the cap was made does not absorb moisture in its structure, it only quickly transfers it outside the cap.

It protects the sinuses and ears. Thermoactive material ensures maintenance of the necessary thermal comfort, perfectly isolates the head from the cold environment and wind.

Antibacterial. Cubic Guard material is an environment that is unfavorable to bacterial growth.

Provides security when running after dark. The logotype is reflective, thanks to which the runner is better visible on the road during the evening training.

It does not slip. The material of the cap is very flexible and extends in four directions, and the ergonomic cut ensures a perfect fit.

Universal. The cap is ideal for wearing during various forms of activity. Small dimensions make it possible to take it with you everywhere.
TECHNOLOGIES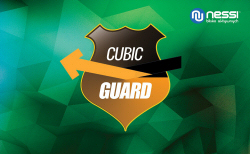 Cubic Guard
- ma strukturę kraty,
- dobrze izoluje od wiatru i chłodu,
- dobrze oddycha,
- gwarantuje komfort termiczny,
- odprowadza wilgoć do warstw zewnętrznych, chroniąc organizm przed wychłodzeniem,
- szybko schnie,
- nie uczula.
Materiał ma strukturę kraty, która gwarantuje optymalną równowagę pomiędzy wiatroszczelnością a oddychalnością, zapewniając równocześnie komfort termiczny.
Zewnętrzna warstwa działa niczym falochron: skutecznie chroni przed podmuchami wiatru i chłodem.
Warstwa wewnętrzna jest delikatna, przyjazna dla skóry i szybko odprowadza wilgoć na zewnątrz. Zapobiega to wychłodzeniu organizmu i skraca czas schnięcia odzieży.
Materiał nie powoduje podrażnień alergicznych i jest środowiskiem niesprzyjającym rozwojowi bakterii i grzybów.
Jest odporny na działanie promieni UV, co zapewnia trwałość kolorów na dłużej.
Włókna o dużej elastyczności i wytrzymałości nie tracą swoich właściwości nawet po długim, intensywnym użytkowaniu.
Skład: Polyester 100%.
Gramatura: 210g /m2