DOUBLE-SIDED BEANIE HAT 100% MERINO

Product code: IWC-90-80
Colour: Black / Grey
Gender: Unisex

DOUBLE SIDED PROTECTION
Our hat is made of merino wool, which provides thermoactive protection on cold days. Not only does it isolate you from unfavourable weather conditions during autumn and winter, but it also protects your ears and sinuses from the chill. We created the double-sided model so that you can choose your favourite version to match your style. It is a fantastic choice if you favour a capsule wardrobe - two products in one. The hat can be rolled up to provide extra protection against cold. The classic cut makes it fit into streetwear as well as casual clothes. Its universal character makes it suitable for everyday use - on your way to work, during the walk, shopping or meeting with friends. We have placed an eco-leather logo that emphasizes the urban style.


MATERIAL
To make this hat we chose organic merino wool. Its properties make it a perfect choice for autumn and winter! Delicate and extremely thin fibres are responsible for high thermal protection. The dense fleece, composed of many thin fibres, has more air spaces that work as insulation. The merino fibres are highly flexible so that the hat can be adapted to head circumference without losing its shape even for years of use. The high quality of wearing is also influenced by the airiness and exchange of air, which is caused by the scales and pores covering the merino fibres. Unlike artificial fibres, water does not condense on their surface but evaporates. The result is a feeling of dryness and full thermal comfort at low temperatures. The hat is warm and pleasant to the touch.
Size:
ONE SIZE - head circumference from 46 to 58 cm


These details make a difference:
100% merino wool of excellent quality.
The hat can be adapted to a wide range of head circumferences.
The 2 in1 hat is suitable to wear it reversibly.
It can be rolled up to create extra protection against the cold.
Protects ears and sinuses from the chill.
The classic cut fits many styles.
Durable, it will keep its shape for years.


The merino hat was manufactured for You in Poland.
TECHNOLOGIES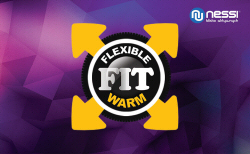 Flexible Fit Warm

- it is extremely flexible: it extends in four directions, which ensures a perfect fit to each figure,
- breathes well,
- wicks moisture away from the surface of the skin to the outer layers,
- dries quickly,
- it is very delicate and pleasant to touch,
- isolates from wind and cold,
- has internal insulation.

The material is like a second skin: pleasant to the touch, flexible, perfectly matched to the body.

Its outer layer protects against rewinding and isolates from cold, while the inner one is very delicate, it is responsible for quickly draining moisture from the skin's surface and prevents the body from cooling down.

The fabric extends in four directions, which ensures a perfect fit to the figure.

The delicate and skin-friendly material does not cause irritation and abrasions. Thanks to thermal insulation, it provides thermal comfort and is ideal for autumn and winter.

The material breathes well, thanks to which the clothing made of it dries very quickly.
The material does not lose colors in the wash and under the influence of sunlight.

Composition: Polyester 100%.