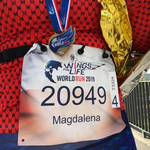 WINGS FOR LIFE WORLD RUN to wydarzenie, które w swój kalendarz ma wpisany praktycznie każdy biegacz. To akcja, która swoje macki rozprzestrzeniła na cały świat! Wielka przygoda i niespotykana nigdzie indziej formuła zawodów. Poprzez wesołą zabawę i szaleństwo przygody, nutę ekscytacji, niepewności i podniecenia, kiedy to samochód-meta drapał będzie po piętach, realizuje się najważniejszy cel – zbiórkę funduszy na badania nad rdzeniem kręgowym. Biorąc udział w biegu, każdy staje się częścią globalnego ruchu.
W tym roku nie było inaczej. Start zaplanowano na 5 maja 2019r. o godz. 13:00 czasu lokalnego. W Polsce to Poznań po raz kolejny został gospodarzem WFL.
Nasza niezawodna Katarzyna Wawrzyńczak-Boruch podjęła się zadania i stworzyła TEAM KOLOROWEJ DRUŻYNY NESSI. Dzięki temu mogliśmy udowodnić, że nasza drużyna jest najlepsza na świecie, wspólnie biegnąc dla tych, którzy nie mogą.
"Chcieliście drużynę, no to ją macie,
skumbrie w tomacie, śledź!
Kto biegnie Wingsy, to proszę wsiadać, drzwi zamykać.
czyli na polski:
kto biegnie Wingsy, może dołączyć do Kolorowej Drużyny Nessi"
Zebrało się 41 członków, przy czym zawodników z logo Nessi na piersi była cała masa. Kto biegł, ten widział, jak pokolorowaliśmy świat!
Dla osób startujących w Poznaniu i zapisanych do Kolorowej Drużyny Nessi - Wojtek zafundował opaski NESSI TEAM WINGS FOR LIFE 2019. Otrzymali je wszyscy, którzy dołączyli do drużyny do 2 kwietnia, dzięki czemu zyskali niesamowitą pamiątkę.
Spotkanie Nessiaków odbyło się w dniu biegu, o godzinie 12.00 na terenie Targów Poznańskich.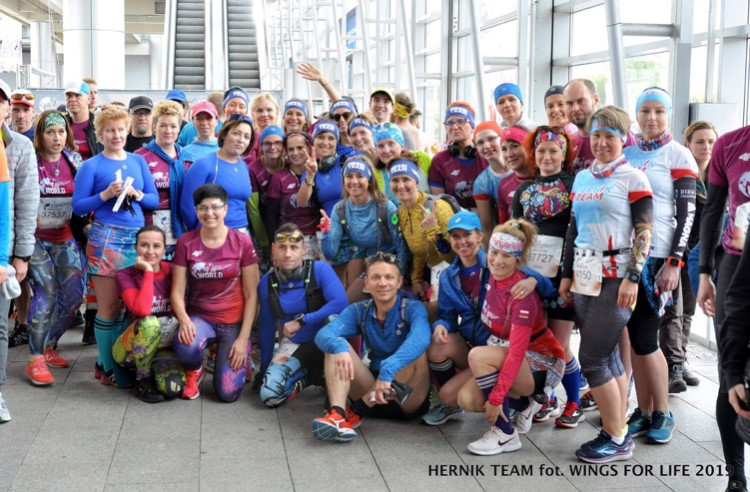 WINGS FOR LIFE 2019 - TEAM NESSI – W LICZBACH
zebraliśmy 1.210,99 EURO

otrzymaliśmy odznakę Brązowego Przyjaciela WFL

na 2347 drużyn z całego świata – uplasowaliśmy się na

 

88 miejscu

przebiegliśmy wspólnie 594,35km

nasz średni dystans wyniósł 15,64km

udział w biegu wzięło 38 zawodników
1 Marciniak, Tomasz (POL) 28,03
2 Boruch, Adam (POL) 27,34
3 Bogaciuk, Magdalena (POL) 23,33
4 Stanek, Dominik (POL) 23,09
5 Golędzinowska, Marzena (POL) 23,00
6 Zimińska, Joanna (POL) 22,80
7 Wysocka, Agnieszka (POL) 22,16
8 Wysocki, Tomasz (POL) 20,47
9 Biela, Iwona (POL) 20,14
10 Nierzwicka, Agnieszka (POL) 18,47
11 Oracka, Agnieszka (POL) 18,17
12 Golędzinowski, Paweł (POL) 17,50
13 Armatyńska, Małgorzata (POL) 17,42
14 Rogut, Katarzyna (POL) 17,33
15 Harmaciński, Bartosz (POL) 16,53
16 Filochowski, Daniel (POL) 16,39
17 Ostrowska, Monika (POL) 15,68
18 Grochowska, Agnieszka (POL) 15,39
19 Sęczkowska, Lidia (POL) 14,83
20 Marciniak, Monika (POL) 14,82
21 Buchowiecka, Anna (POL) 14,41
22 Kraszewska, Agnieszka (POL) 13,90
23 Katarzyna, Piskorska (POL) 13,32
24 Kurzawińska-Jabłońska, Kasia (POL) 13,27
25 rajkow dedew, katarzyna (POL) 13,08
26 Leśniak, Magdalena (POL) 12,82
27 Pawłowska, Arleta (POL) 12,57
28 Hinc, Iwona (POL) 11,74
29 Rudnicka, Mariola (POL) 11,71
30 Tomaszewicz, Aleksandra (POL) 11,51
31 Kaczmarek, Aleksandra (POL) 11,45
32 Pawłowski, Dariusz (POL) 10,50
33 Chybińska, Katarzyna Ewa (POL) 10,18
34 Wojdalska-Śledzińska, Agata (POL) 9,97
35 Boruch, Katarzyna (POL) 8,74
36 Woźniak, Urszula (POL) 8,16
37 Stawarz, Aleksandra (POL) 7,29
38 Zaracka, Anna (POL)
Dziękujemy wszystkim Nessiakom!
PS. Już dziś można zapisać się na WFL w 2020r. Bieg odbędzie się 3 maja!