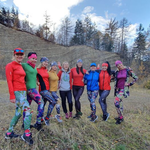 Trzeci weekend listopada 2019r. przebiegł u nas pod hasłem Sesja z Nessi.
Przebiegł – dosłownie, bowiem dziewczyny, które wygrały udział w profesjonalnej sesji zdjęciowej musiały nabiegać sporą liczbę kilometrów, abyśmy mogli cieszyć się efektami wspólnej pracy. Dziewczyny stwierdziły jednogłośnie, że pozowanie to nie jest lekka robota. Wymaga skupienia, zaangażowania, odwagi, charyzmy, a przede wszystkim dobrej kondycji.
Co to był za weekend?
W połowie października na naszym Facebooku pojawiło się energetyczne ogłoszenie: "Idziemy do Was z mega fajnym projektem!"
(...) Jeśli nie boisz się wyzwań, lubisz pracę z ludźmi, jesteś przebojowa i gotowa na niesamowitą przygodę w malowniczych i pięknych Beskidach, to ten projekt jest dla Ciebie. Będziesz miała okazję poznać część zespołu Nessi Team, poczuć klimat prawdziwej sesji, a co najważniejsze brać w niej udział!

Szukamy pięciu dziewczyn do jednodniowej sesji zdjęciowej. Nie musisz mieć 180 cm wzrostu i talii osy, jedynym wymogiem jest dobra kondycja, sesja odbędzie się w górach. Będzie trochę biegania i pozowania, dlatego liczymy na zgłoszenia od dziewczyn aktywnych sportowo.

Przekonaj nas w komentarzu (obowiązkowo dołącz zdjęcie lub film), że to własnie CIEBIE mamy wybrać. Najbardziej niesamowite, nieoczywiste i energetyczne zgłoszenia będą brane pod uwagę.


Co oferujemy:

Profesjonalną sesję zdjęciową .

Otrzymasz do nas zestaw ubrań, w którym będziesz podczas sesji zdjęciowej.

Pięć zdjęć w wersji cyfrowej.

Zapewniamy nocleg oraz zwrot kosztów dojazdu na miejsce ( powyżej 100 km)

Niesamowite przeżycia, pracę w fajnej atmosferze i ogromnej dawki kolorowej mocy.

Opiekę i wyżywienie podczas trwania sesji zdjęciowej.
Listopadowe warunki pogodowe okazały się łaskawe i tak przedstawiamy Wam kulisy naszej Sesji z Nessi. Wybraliśmy pięć różnych kobiet - o różnych kształtach, o różnych predyspozycjach, w różnym wieku. Dodatkowo zaprosiliśmy kilka naszych klientek.

Chcieliśmy aby poczuły czym jest sesja, jak to wszystko wygląda. Tym samym.pokazujemy Wam, że kolorowe ubrania są dla każdego. Figura, kształty i wiek nie mają tu żadnego znaczenia.
Podczas trwania sesji panowała świetna i miła atmosfera. Nasze modelki wczuły się w rolę, pozowały najlepiej jak potrafiły. Humory dopisywały cały czas! Były tańce, śpiewy i nawet zajęcia fitness! Było też smacznie i pysznie.
Dziękujemy naszym modelkom raz jeszcze! Jesteście najlepsze.