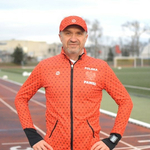 To będzie pierwszy na świecie atestowany ultramaraton na dystansie 5000 km i wśród zawodników z całego świata znalazł się Paweł Żuk, czyli nasz niesamowity Asfaltowy Chłopak.
Udało nam się go złapać w ostatniej chwili, tuż przed samym wylotem i podpytać o przygotowania, towarzyszące mu emocje oraz same zawody.
NESSI Jak się czujesz fizycznie i psychicznie?
PAWEŁ ŻUK Bardzo dobrze. Przygotowuję się do tego biegu od....prawie roku. A tak naprawdę to całe życie. Każde wyzwanie to podnoszenie sobie poprzeczki. Ciężka praca nad sobą, nad swoim ciałem i umysłem. Ale nic na siłę. To musi być też przyjemność <img alt="