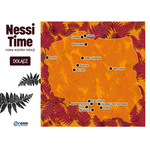 Energia Klientek Nessi, kumulowana przez lata - dała potężny impuls, aby zrobić odważny krok ku nowemu.
Złamać granice, wybić szyby i wyrwać kraty stawiane przez świat wirtualny. Wyjść w codzienność, przybić sobie piątkę i czynić dobro – razem, wspólnie, tworząc realną, kolorową społeczność.
Startujemy z zupełnie nowym, ogólnopolskim projektem NESSI TIME, który jest czymś więcej niż grupa czy internetowy komunikator!
Sercem akcji jest zbudowanie okoliczności, w których masz szansę poznać nowe osoby i przede wszystkim znaleźć te, które podobnie czują i patrzą na otaczający świat. To przestrzeń, gdzie spotykają się tożsame wartości, gotowe do zrobienia czegoś bezcennego dla swojej lokalnej społeczności jaką jest... Polska!
Startujemy 12 listopada 2019r., w 14 miejscowościach – i to dopiero początek!
Cegiełka po cegiełce będziemy zachęcać coraz większą ilość osób do nadania sensu swojemu życiu, do odwagi, dla pasji, dla siebie i innych. Przyłącz się i wypełniaj Nessi Time swoim hobby, zajawką, realizując to – co lubisz.
Pomysł projektu ma swoje korzenie w aktywności, dlatego będziemy kręcić się dookoła ruchu, w jego nieskończonej ilości odmian. Co jednak najważniejsze – będziemy kształtować na nowo kulturę fizyczną. Dbać nie tylko o ciało, ale i stan ducha. Adoptujemy temat higieny okołosportowej i pokażemy, że życie składa się z wielu fascynujących puzzli - od biegania, przez morsowanie, po wspólną kawę na ławce w parku.
W Nessi Time dajemy Ci przestrzeń i czas na zbudowanie społeczności kolorowych szaleńców, którzy mają wiele do powiedzenia. Zarażaj innych i pozwól, aby projekt rozrastał się na sąsiadów, osiedla, dzielnice i miasta. Bez terminu ważności!
Odważ się i znajdź 1 godzinę w tygodniu, aby wygenerować potężną dawkę pozytywnej energii.
Otwórz się na nowe znajomości, koleżeńskość i przyjaźń. Przyjdź, porozmawiaj, uśmiechnij się. Nessi Time pomaga w budowaniu relacji. To spotkania, do których nie doszłoby, gdyby nie wspólna pasja jaką jest otwartość na drugiego człowieka.
Tajemnicza wiadomość
W każdej z podanych miejscowości spotkasz naszego wysłannika – koordynatorkę Nessi, która będzie przerzucała hasła klucze - w świat rzeczywisty. To ona otrzyma od nas "tajemniczą wiadomość", jaką będzie wyzwanie, czelendż, wspólny wypad tu i ówdzie, wspólna dyskusja czy trening. Jedno jest pewne – nikt nie będzie się nudził, a Ty przygotuj się na każdą ewentualność i masę dobrej zabawy!
Chcesz się dołączyć?
Nie czekaj!
- Przyjdź we wskazane miejsce, o wskazanej godzinie.
- Zabierz ze sobą sportowe ciuchy i dużo pozytywnej energii.
- Badź otwarta,-y, uśmiechnięta.-y i odważna,-y!
Nessi Time - Brzeszcze
Nessi Time - Dąbrowa Górnicza
Nessi Time - Gdynia
Nessi Time - Gniezno
Nessi Time - Gryfino
Nessi Time - Kraków [Bieganie]
Nessi Time - Kraków [Nordic Walking]
Nessi Time - Ojców
Nessi Time - Poznań
Nessi Time - Ruda Śląska
Nessi Time - Skarszewy
Nessi Time - Solec Kujawski
Nessi Time - Warszawa
Nessi Time - Żory
Nessi Time - Żukowo
Jeżeli chcesz zorganizować Nessi Time w swojej okolicy i zarazić innych swoją pasją - odezwij się do nas na marketing@nessi-sport.pl
Spotkania są darmowe i otwarte dla każdego.