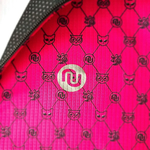 Czytanie o technicznych aspektach materiałów może, ale nie musi być nudne jak flaki z olejem. Jak zatem zainteresować odbiorcę, aby przebrnął przez te treści i pomimo wszystko co nie co zapamiętał...? Postaramy się to zrobić i liczymy na Twoją uwagę i chwilę zainteresowania.
Dzisiaj na tapetę wjeżdża CUBIC GUARD.
W translatorze googla wyskakuje jako "sześcienna osłona".
OK, pomyśleliśmy. Niby wszystko się zgadza, ale dość ciężko to sobie wyobrazić. Dlatego my odwołamy się do Twojej wyobraźni. Może kojarzysz nadmorskie falochrony, które zabezpieczają brzeg, nie dopuszczając do jego uszkodzenia. Dokładnie! Chodzi o te wielkie betonowe bloki rzucone jeden na drugim wzdłuż nabrzeża.
Widzisz to?
Yhy. I teraz wyobraź sobie tę osłonę, o której wspominał google. Zarzuć na siebie materiał o strukturze kraty. Cubic Guard to bowiem Twoja tarcza ochronna, która ma za zadanie przyjmować na siebie uderzenia wiatru i chłodu, tak samo jak falochron siłę fal.
Sprytne rozwiązanie, bowiem gwarantuje przez to pełen komfort termiczny.
Komfort termiczny czyli co?
Czyli to, że gdy wieje wiatr i jest zimno na zewnątrz, to Ty cały czas jesteś w stanie zadowolenia z odczuwanej temperatury. Nie jest Ci ani za ciepło, ani za zimo. Jest idealnie.
Powstaje jednak pytanie – co się dzieje w trakcie aktywności?
Cubic Guard to bowiem materiał techniczny, wykorzystywany w odzieży sportowej, m.in. w Nessi opaskach, kominach, bluzach czy bezrękawnikach. Przecież, gdy tylko zaczynamy się ruszać, nasze ciało gwałtownie się rozgrzewa i jak tu się nie przegrzać? Albo odwrotnie, gdy skończymy trening, jak tu się nie wychłodzić? Zwłaszcza w okresie jesienno-zimowym.
Świetne pytanie powiemy! Strzał w 10!
Cubic Guard gwarantuje zachowanie optymalnej równowagi pomiędzy wiatroszczelnością, a oddychalnością. Czyli pomimo tego, że jest jak zbroja, potrafi zachować ludzką twarz i zadbać o komfort swojego rycerza. W innym wypadku ten padłby jak długi, zanim jeszcze zacząłby swoją bitwę. Nie możemy sobie na to pozwolić.
Dlatego materiał przepuszcza także powietrze w drugą stronę, od ciała – na zewnatrz. Odprowadza pot, wilgoć i nadmiar ciepła. Ćwiczysz i jest Ci dobrze.
Co jeszcze odczuwasz?
Cubic Guard jest miły w dotyku. Koniec ze śliskim materiałem, który tylko potęguje uczucie zimna. Teraz jest Ci przyjemnie. Nic Cię nie ogranicza.
Idąc tropem wygody - możesz skakać i robić gwiazdy na środku podwórka. Materiał jest elastyczny i pracuje razem z ciałem. Nie rozerwie się, jest wytrzymały. Tak, jak wspomniany betonowy falochron - nic go nie ruszy!
I na zakończenie i co szczególnie ciekawe – jakość Cubic Guard plasuje go w czołówce materiałów technicznych. Zachowuje swoje właściwości nawet przy intensywnym użytkowaniu. Natomiast metoda jego barwienia pozwala na zachowanie trwałości kolorów. Widzieliście rycerza w kolorowej zbroi?