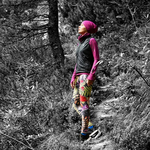 Na czym opiera się nowa kolekcja Nessi? Oczywiście na wzorach i kolorach. To sprawa bezdyskusyjna i zwyczajnie nie da się tego przeoczyć. Zaprojektowanie jej to praca zespołowa, rozciągająca się na kilka dobrych miesięcy.

Czy to proste?

Ani troszeczkę.
Tu nie chodzi o to, aby narysować obrazek. To nie ma być także kalka, kopia czy modyfikacja czegoś już istniejącego. To nie ma być rysunek stworzony na kolanie.
Praca nad kolekcją musi kosztować. Wiemy to. Nasz cel, to historia zaklęta w każdym wzorze. Nuta zaskoczenia i zachwytu. Śmiemy twierdzić, że to jest właśnie ta dusza, która wyróżnia nas od innych.

Moment startu kolekcji to symboliczne tchnięcie w nią życia. Każda z Was dopełnia ją swoją osobą. Fascynujące jest to, jak dany wzór potrafi wydobywać odcienie Waszych charakterów i osobowości. Z drugiej strony, jak to on potrafi oddziaływać na Waszą motywację i energię.
Co kryje się we wzorach kolekcji jesień-zima 2019/20?
TAJEMNICA

Skarbnicą pełną wyobrażeń, zwyczajów, jak i nieodkrytych tajemnic jest Aztec 3D. Wzór skupia w sobie całego ducha ukrytego w przeszłości. To z niego wypływa energia waleczności, determinacji i niezłomności.
POTĘGA
Kontynuacją świata Azteków jest wzór Masek, które z jednej strony ukrywają sekret, z drugiej zapraszają do jego odkrycia. Ich forma, kolor i kształt przedstawiają emocje, którymi można żonglować w zależności od sytuacji i okoliczności. Dodają mocy, wytrwałości i pewności siebie.
Red Mask nałoży wojowniczka - szybka, zwinna i waleczna. Fluo Mask jest pełna mistycznej energii i nadprzyrodzonych mocy. Colour Mask to siła koloru, a Gold Mask – maska triumfu.
DUCH WALKI
W azteckim panteonie Metzli był bóstwem o dwóch postaciach. Jego świetlista strona związana była z kolorem czerwonym, który symbolizuje siłę i odwagę. Mosaica Metzli jest pełna dynamiki i działania.
NIEZALEŻNOŚĆ
Wzór Grey Panther pokazuje charakter sprytnej kocicy, która zdobywa upatrzone cele. Jest skupiona, intrygująca i niezależna.
ŚWIATŁO
Biały las to symbol dnia, budzącej się przyrody, porannych treningów. To zdrowa energia, z którą startujemy do życia. Czysta, wolna, niczym niezmącona. Wzór White Forest, to światło, które pcha do przodu i doładowuje na każdym kroku. Jednocześnie delikatność, wrażliwość, opanowanie.
ODWAGA
Black Forest to symbol o kilku twarzach. Z jednej strony jest spokojny i pokazuje swoje matczyne oblicze. Z drugiej strony, pod osłoną ciemności, odkrywa swój charakter. Jest pełen magii. Przepełnia go odwaga i moc. Dąży do celu i nie poddaje się.
DŁUGOWIECZNOŚĆ
Paproć to jedna z najstarszych roślin świata. To symbol życia.
Zielone liście Green Fern przypominają czym jest moc natury. To źródło niewyczerpującej się siły do działania. Ekspresja i duch życia.
Black Fern – to cisza i dzikość jednocześnie. Z drugiej strony to niepowtarzalność i wyjątkowość. Coś intrygującego. To zaproszenie do szczęścia, dobrobytu i dostatku. Świata elegancji, wytrawności i triumfu.