THERMOACTIVE HEADBAND
BLACK CORN
Product code: AON-12C9
Colour: Multicolour
Gender: Unisex

BLACK CORN - A MEMORY OF THE AUTUMN
We have prepared for you a contrasting version of the Corn. Our enchanted cornfield this time took on the colours of black, white and shades of grey. Colourful, autumn leaves have turned yellow and the gossamer shimmering in the autumn sun has already disappeared. Nature lost its vibrant colours, giving up to winter monochromaticity. During winter workouts, remember the path lost in the fields, sparkling with autumn colours. Corn and hoopoes will remind you of those magical days!
Put on Black Corn [leggings]and fall in love with autumn in black&white version!

PROTECT YOUR EARS AND SINUSES
Our headband will work well during training sessions - even the most demanding ones. We made it from a material whose properties make it perfect for autumn and winter. The width of the headband has been designed to protect you also on windy days, especially if you suffer sinus problems. Flat seams prevent abrasions. The headband stays in place and does not slip. This means comfortable training in all weather conditions.
Size:
S/M - head circumference 46-54 cm,
M/L - head circumference 54-62 cm.


MATERIAL AND REFLECTIVE ELEMENTS
The headband is made of Cubic Guard fabric with an innovative lattice structure. This makes the outer layer of the material act as a breakwater: it effectively protects against gusts of wind and cold. The internal lining is soft, skin-friendly and wicks moisture quickly to the outside. The material is flexible and durable - it does not lose its properties even after long use. Cubic Guard prevents the growth of bacteria and fungi and does not cause allergies. Our headband will work well during intensive workout, but also while hiking, cycling or while travelling.


These details make a difference:
The material does not lose colour when exposed to sunlight.
Properly selected width that protects ears and sinuses.
Protects the eyes from sweat.
Innovative material of lattice structure - like a breakwater on the outside but delicate on the inside.
The material does not conduce to bacteria and fungi growth.
We use top threads used in aviation - it's the strength you can trust.
We want you to be safe - that's why the band has got a reflective logo. Its place has been chosen according to the principle of greater visibility so that the moving part of the body gives a variable signal to the drivers.
Durable and flexible material.

The headband was manufactured for You in Poland.
ADVANTAGES
It dries quickly. The fabric from which the band was made, does not absorb moisture in its structure, only quickly transfers it outside the cap.

It protects the sinuses and ears. Thermoactive material ensures maintenance of the necessary thermal comfort, perfectly isolates the head from the cold environment and wind.

Antibacterial. Material Cubic Guard is an environment that is unfavorable to the development of bacterial flora.

Provides security when running after dark. The logotype is reflective, so the runner is better visible on the road during the evening workout.

It does not slip. The material of the cap is very flexible and extends in two directions, and the ergonomic cut ensures a perfect fit.

Universal. The band will work during various outdoor activities and in everyday use. Small dimensions make it possible to take it with you everywhere.
TECHNOLOGIES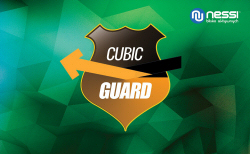 Cubic Guard
- ma strukturę kraty,
- dobrze izoluje od wiatru i chłodu,
- dobrze oddycha,
- gwarantuje komfort termiczny,
- odprowadza wilgoć do warstw zewnętrznych, chroniąc organizm przed wychłodzeniem,
- szybko schnie,
- nie uczula.
Materiał ma strukturę kraty, która gwarantuje optymalną równowagę pomiędzy wiatroszczelnością a oddychalnością, zapewniając równocześnie komfort termiczny.
Zewnętrzna warstwa działa niczym falochron: skutecznie chroni przed podmuchami wiatru i chłodem.
Warstwa wewnętrzna jest delikatna, przyjazna dla skóry i szybko odprowadza wilgoć na zewnątrz. Zapobiega to wychłodzeniu organizmu i skraca czas schnięcia odzieży.
Materiał nie powoduje podrażnień alergicznych i jest środowiskiem niesprzyjającym rozwojowi bakterii i grzybów.
Jest odporny na działanie promieni UV, co zapewnia trwałość kolorów na dłużej.
Włókna o dużej elastyczności i wytrzymałości nie tracą swoich właściwości nawet po długim, intensywnym użytkowaniu.
Skład: Polyester 100%.
Gramatura: 210g /m2